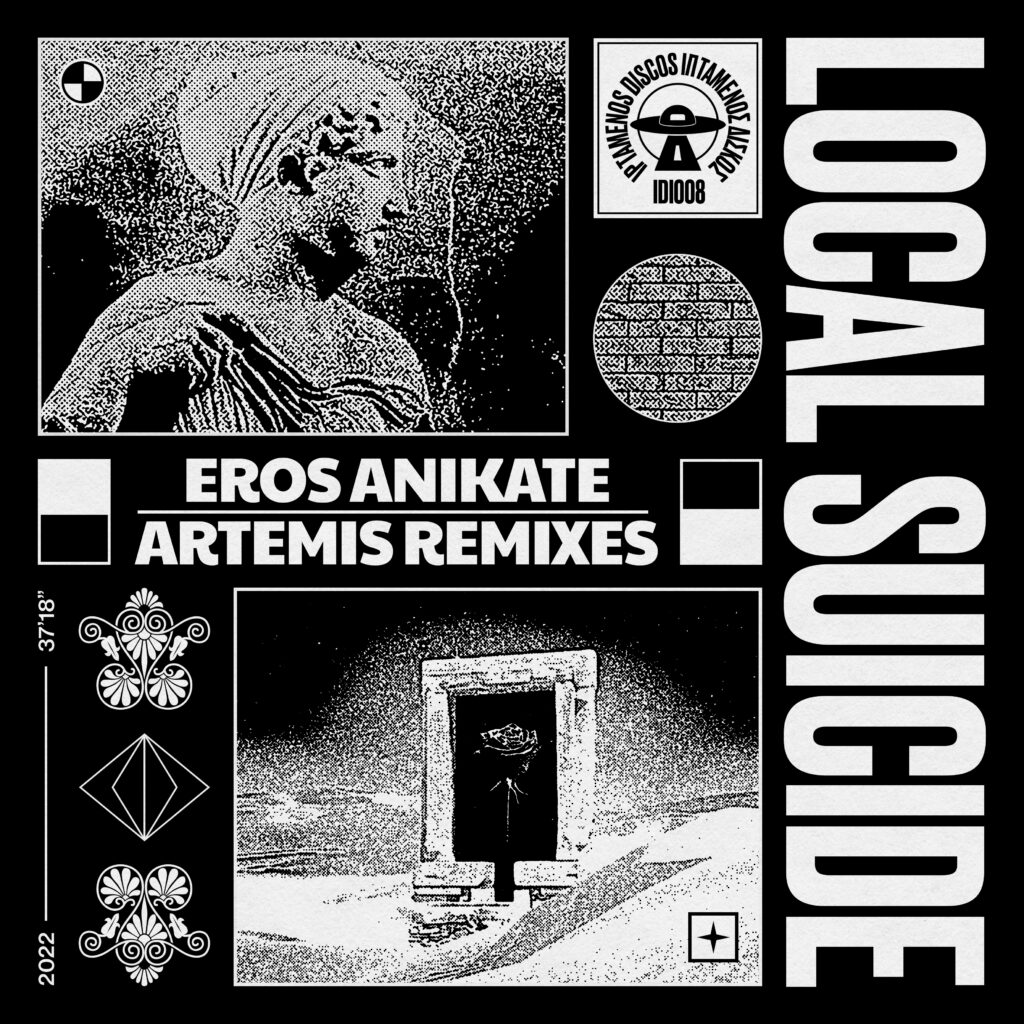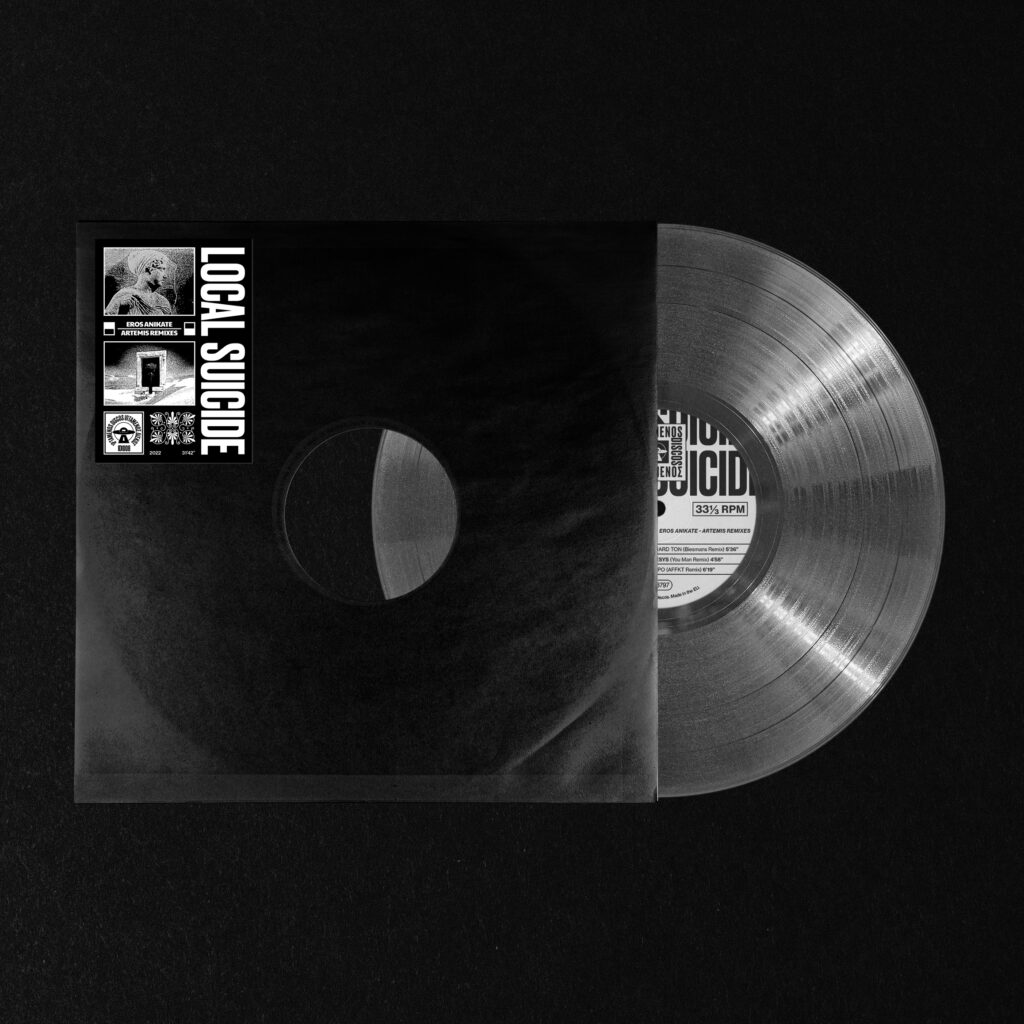 Artist: Local Suicide
Title: Eros Anikate – Artemis Remixes
Release: October 21st, 2022
Format: 12″ / Digital
Press Release:
Local Suicide are back with the second of four remix EPs for their debut album, 'Eros Anikate', each named after an ancient Greek god. 
The Greco-German DJ and Producer couple, known for their wild fusion of new wave, acid, slow techno, EBM, and dark disco, have been driving live audiences into a frenzy across the globe with captivating performances and live sets. Their propulsive grooves have earned them the title of key figures in the up-rising dark disco scene, as well as overwhelming support from the music press worldwide for their 13 EP releases to date. Their debut LP, 'Eros Anikate', is the next step on their journey to a worldwide cobra wave and techno-disco takeover and includes selected vocal features and collaborations from Lena Platonos, Curses, Theus Mago, Kalipo, Sissi Rada and more. The album release was a success globally and received immense support from the likes of Mixmag, Spiegel, Tsugi, Faze, Inverted Audio, Sonic Seducer, Starwax, Side Line, Ransom Note, Groove, The Sun, Kaput Mag, Electronic Groove, Deutschlandradio Kultur, Lifo, Spotify and Apple Music.
'Eros Anikate – Artemis Remixes' is a 6-track EP featuring a remix for 'Moustache' w/ Skelesys, 'Jam Bounce Release' w/ Theus Mago, two remixes for 'Like Follow Subscribe' feat. Hard Ton, one for 'Cobra Wave' w/ Kalipo  and one for 'Eros Anikate' feat. Lena Platonos. The EP will be released on digital and vinyl via their Iptamenos Discos imprint on October 21st, 2022.
The EP opens with a remix of 'Moustache' with Argentinian Skelesys from the French duo You Man. The pair follow an open-minded approach to their music, incorporating everything from dark disco to muscular EBM, euphoric trance to Konnakol, a percussive vocal effect used in Southern Indian Carnatic music, and even Di Falco's background as a trained psychologist and hypnotherapist. The result is a mesmerising and animated experience primed to open and expand minds on the dance floor. Their remix of 'Moustache w/ Skelesys' is a brooding and seductive rework with stuttered chords and echo plucks modulated with a slow-rising phaser over a plucky bass and groovy drum breaks. 
Silicone Soul presents a remix for 'Jam Bounce Release' with Mexican Theus Mago that strips back the track's percussion in place of airy hats and a dark bass for a deep and driving mix. Since their inception as teenagers in 1998, the legendary Scottish duo have been driven and inspired by an unquenchable thirst for the perfect sweet spot between organic and electronic, synthetic and authentic, a dichotomy that has led to their dynamic and kaleidoscopic electronic sound. Their influential independent label Darkroom Dub has also become a signature for authentic and original underground house music by maintaining Glasgow's label tradition of not compromising and encouraging honest records.
Supporting early and breakthrough cuts to innovators of all generations, they have amassed a rich catalogue of unique and inspiring electronic music that has breadth, soul and a subtle sense of cosmic consistency.
The two remixes for 'Like Follow Subscribe' feat. Italian duo Hard Ton come from Biesmans, who offers an original mix and an instrumental version. Born and raised in Belgium, Biesmans moved to Berlin in 2013, where he started working as a sound technician in the iconic Watergate club while honing his studio craft amongst his beloved synthesisers. After quitting his technician job to focus on producing music, he earned a place in the W-agency roster, followed by an impressive debut EP on the Watergate label, among others, and a series of unique POV sessions showcasing his live skills and hardware-heavy setup that gained him plenty of attention on social media. His remix for 'Like Follow Subscribe' brings in strong disco influences for a pulsing and upbeat remix that highlights his mastery of the synthesiser. 
AFFKT's reinterpretation of 'Cobra Wave' with Bavarian producer Kalipo  is a complex, gritty and aggressive remix with driving basslines, tribal rhythms and modulated laser effects. Hailing from the Spanish mainland, Marc Martinez Nadal, aka AFFKT, has been developing his colourful and empowering sound since 2008 through experimentation, his experiences with sound, place, person and culture, and his drive for perfection. He serves electronica crossover masterpieces that delve into the many sub-genres of house music as well as heart-stopping, engaging techno, earning him the reputation of the 'Son of a thousand sounds'. He remains committed to a life of synthesis to set himself apart from the comparatively shallow glance of dance music, and it is with this same mindset that he approaches his own Sincopat.
The final remix for the EP is from Boys' Shorts for 'Eros Anikate' feat. Greek new wave legend Lena Platonos. The Greek DJ and producer duo had been friends for over a decade and spent endless hours on the decks together DJing around Greece and Europe before deciding to form their project and share their love for electronic music. Their music is a blend of everything they mix in their DJ sets, from disco to breaks, slow techno to acid, with the sole aim of making people dance. Having previously released their hit 'New Era' EP via the Iptamenos Discos imprint, the duo return for their remix of 'Eros Anikate feat. Lena Platonos', speeding up the track and adding driving synth sequences and groovy rhythms for a fun and vibrant remix.

ALBUM PRESS HIGHLIGHTS:

"The upcoming album, 'Eros Anikate', is dubbed to showcase the pair's 'techno-disco' sound, which blends retro with modern musical elements, baselines and mysterious vocals. It'll include an array of collaborators and friends to add the final touch." MIXMAG
"Eros Anikate' is a true and faithful representation of the sound which has led Local Suicide to be among the most celebrated in their field, representing a fresh fusion of electronic disco that speaks in EBM's quieter tongues – a perfect storm of dark and light. Ready to bring the goth summer vibes to the party." INVERTED AUDIO
"It is with complex productions, at the crossroads of new wave and post-punk, sprinkled with touches of EBM, that the Greek-German duo imposes itself in the musical landscape of Berlin techno." TSUGI
"Many hits on an all-around convincing debut album" SONIC SEDUCER
"On the LP, we get to hear atmospheric basslines and haunting vocals that fuse beautifully with new wave synth electro sound to create an exciting blend of retro and modern." FAZE
Downloads:
Local Suicide Links:
Other Releases: