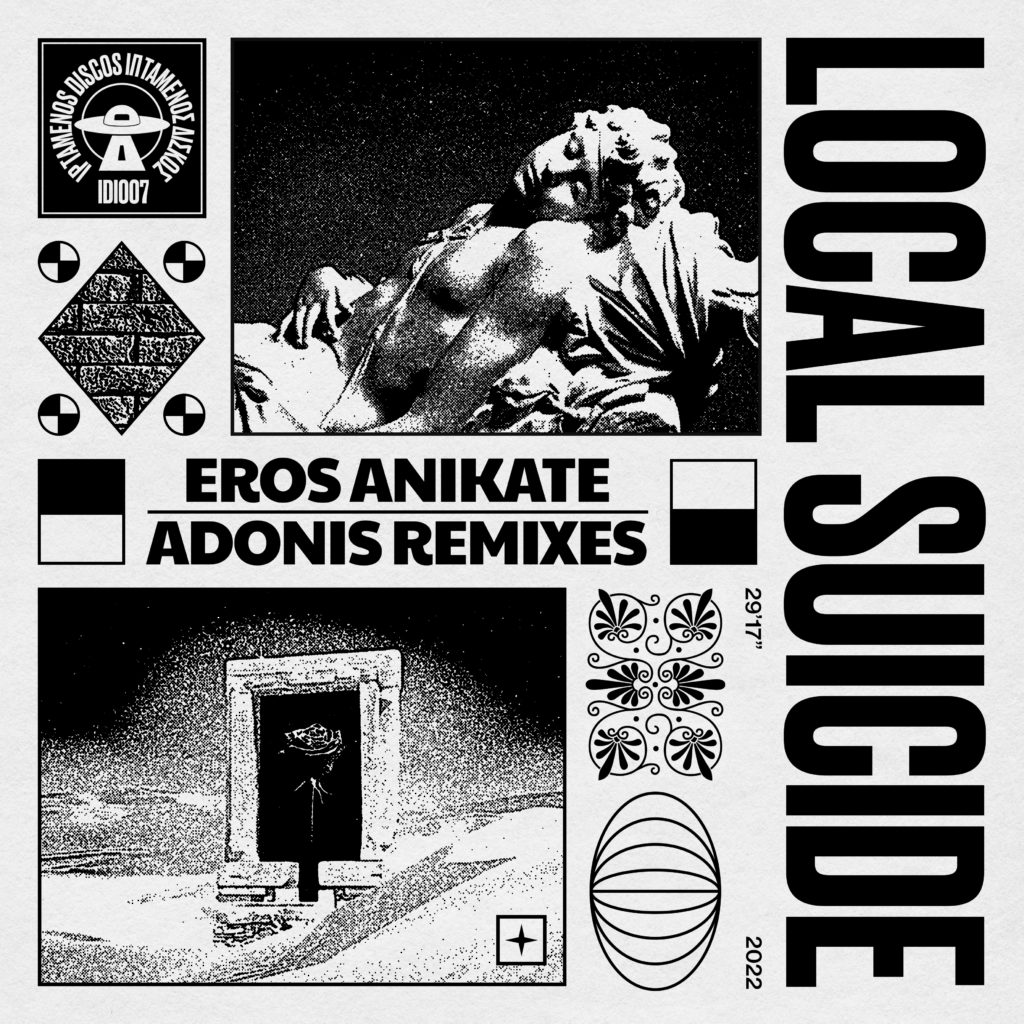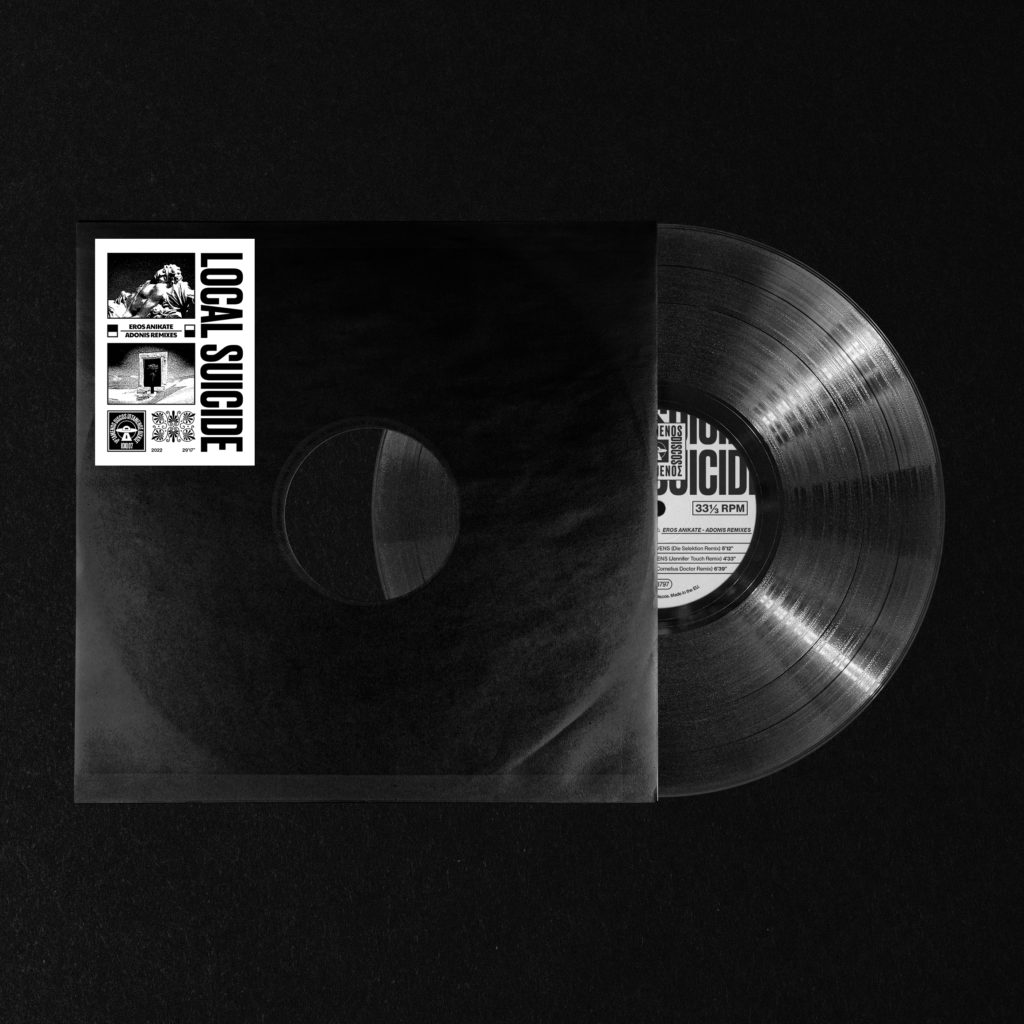 Artist: Local Suicide
Title: Eros Anikate – Adonis Remixes
Release: September 16th, 2022
Format: 12″ / Digital
Press Release:
Following the success of their debut album, 'Eros Anikate', Berlin-based DJ and Producer couple Local Suicide return with the first of four remix EPs for their release, each named after an ancient Greek god.
The Greco-German duo are known for their wild fusion of new wave, acid, slow techno, EBM, and dark disco that has been driving live audiences into a frenzy across the globe. Their debut 'Eros Anikate' comes after 13 EP releases, which have received acclaim from the music press worldwide and earned them the title of key figures in the up-rising dark disco scene. The LP includes selected vocal features and collaborations from Lena Platonos, Curses, Theus Mago, Kalipo, Sissi Rada and more. Earning immense support from the likes of Mixmag, Der Spiegel, Tsugi, Faze, Inverted Audio, Sonic Seducer, Starwax, Side Line, Ransom Note, Groove, The Sun, Kaput Mag, Electronic Groove, Deutschlandradio Kultur, Lifo, Spotify and Apple Music, 'Eros Anikate' marks the duo's next step on their journey to a worldwide techno-disco takeover. 
'Eros Anikate – Adonis Remixes' is a 5-track EP featuring two remixes for 'High Buildings w/ Lee Stevens', one for 'Whispering w/Curses', and two remixes for 'Hercules Adonis'. The EP will be released on digital and vinyl formats via their Iptamenos Discos imprint on September 16th, 2022.
The EP opens with a remix of 'High Buildings' from the German cold wave band Die Selektion. The band, formed in 2010 from another experimental post-punk project, draws influences from new wave, orchestra, techno and 80s synth pop, creating a unique blend of styles that is both melancholic and danceable. Their use of the trumpet and deliberate choice of German-language texts sets them apart from other bands in the genre, earning them success in Germany and beyond. Their remix of 'High Buildings' is a faster, grittier and more aggressive rework of the original, contrasting punk style vocals and harsh, saw bass lines with the soft ambiences and vocals of the original track.
The second remix for 'High Buildings' comes from Berlin's own Jennifer Touch, who adds arpeggiated acid-like synth sequences and warped vocals for an energetic and driving edit. Touch is known for her unique combination of vintage synths, industrial soundscapes and visceral post-punk snarl. Her music is heavily influenced by her memories and observations of the social climate during her upbringing in East Germany, filtered through a young and naïve mind. After the wall came down, her musical tastes expanded beyond 80s pop, and she embraced the bleak and rough techno of Berlin's burgeoning underground, forming the post-wave, cold-pop acid sound she is known for today.
Cornelius Doctor's remix of 'Whispering' strips back the guitars and staccato synth lines, opting instead for softer oriental style pads and drones, textures and percussion for a slowed yet bouncy and vibrant remix. His style sits at the convergence of cosmic, discoid and wavy sounds, with percussion, dark synths, psyche voices, breaks and bells as some of his best weapons. Since starting his Hard Fist label in 2016, Cornelius Doctor has been an advocate for an uninhibited and expressive approach to dance music, opening club music to world sounds and bringing back the essence of dancing together ritually.
Rodion, known as the 'new genius of Italian Dance music', offers the first of two remixes for 'Hercules Adonis'. He is heavily influenced by soundtrack composers such as Morricone and Goblin, 70s Japanese sci-fi animation soundtracks, classical music and Balearic club culture, making emotional, freaked-out electronic music that sits somewhere between cosmic, synthesised funk and the dramatic soundtrack of an Italian horror movie. His remix of 'Adonis' is no different, adding frantic percussion and stuttered, choppy synths that build tension and drama.
The final remix for the EP is from Alejandro Paz, a DJ and producer from Santiago, Chile. His sets are recognisable for his energetic approach on stage, where he sings and dances, and his music selection that showcases the most recent productions of the Latin panorama. His upbeat remix of 'Hercules Adonis' brings in percussive rhythms, bouncy bass, and silky synth pads for a groovy and energetic tune that closes out the EP on a high.
ALBUM PRESS HIGHLIGHTS:
"The upcoming album, 'Eros Anikate', is dubbed to showcase the pair's 'techno-disco' sound, which blends retro with modern musical elements, baselines and mysterious vocals. It'll include an array of collaborators and friends to add the final touch." MIXMAG
"Eros Anikate' is a true and faithful representation of the sound which has led Local Suicide to be among the most celebrated in their field, representing a fresh fusion of electronic disco that speaks in EBM's quieter tongues – a perfect storm of dark and light. Ready to bring the goth summer vibes to the party." INVERTED AUDIO
"It is with complex productions, at the crossroads of new wave and post-punk, sprinkled with touches of EBM, that the Greek-German duo imposes itself in the musical landscape of Berlin techno." TSUGI
"Many hits on an all-around convincing debut album" SONIC SEDUCER
"On the LP, we get to hear atmospheric basslines and haunting vocals that fuse beautifully with new wave synth electro sound to create an exciting blend of retro and modern." FAZE
Downloads:
Artist Links:
Other Releases: