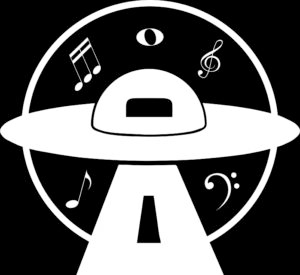 Iptamenos Notes is the publishing arm of the Berlin based label Iptamenos Discos, run by the DJ & producer duo Local Suicide. Since meeting, Munich-born Brax Moody and Thessaloniki native Vamparela have collaborated together on various projects, all culminating in the conception of Iptamenos Notes in Berlin. The distinctive sound of the label and the publishing arm is an energetic fusion of New Wave, EBM, Post Disco and Dark Techno that they themselves have given the name technodisco. Within the catalogue you will find releases of Local Suicide and also the music of the project Dina Summer, Local Suicide together with Kalipo (of the German electro-punk band Frittenbude), and the Vienna based Wiener Planquadrat.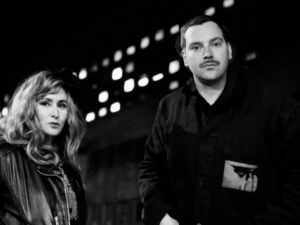 Local Suicide
The history of the DJ & producer duo and couple Local Suicide stretches back over a decade. Brax Moody and Vamparela have collaborated together on various projects, all culminating in the conception of Local Suicide. Local Suicide are the ones behind the term Technodisco which describes their mixture of New Wave, EBM, Disco and Techno. They are also one of the key figures in the Dark Disco scene and have collaborated with the likes of Curses, Theus Mago, Lena Platonos, Hard Ton, The Hidden Cameras and Rodion. In 2021 Local Suicide launched their own label Iptamenos Discos, where they released their critically acclaimed debut album 'Eros Anikate' among others. In 2022 the duo also revealed their new live project Dina Summer with Kalipo.
Dina Summer
Dina Summer is the collaborative band project between Kalipo and DJ couple Local Suicide. The Berlin-based project is fronted by Dina P, who lends her vocals and thought-provoking lyrics to the act. Second member is her husband and DJ/Producer partner Brax Moody with whom she forms Local Suicide. The third member is Kalipo, who started his music career as the producer and band member of the German electro-punk band Frittenbude before venturing into downbeat rave music. Together they create a unique blend of their influences 80's Disco, 90's Electro and New Wave for a fun, nostalgic and dark retro sound. Their debut album "Rimini" offers a beautifully crafted journey through retro disco sonics, incorporating Synth Sop, New Wave, and Disco-elements for funky, upbeat, and versatile tracks that can be enjoyed beachside or on the dance floor.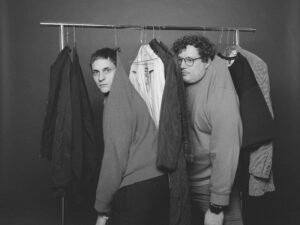 Wiener Planquadrat
The uprising DJ/producer duo Wiener Planquadrat which consists of Michael Weiler and Maximilian Atteneder who after years of creating and performing music separately finally got together in 2020, combining their musical roots to create their new vibrant sound coming straight from the heart of Austria's capital of Vienna. Embracing their love for 2000s Indie music, dark disco and French electro they created their very own unique sound involving powerful, analogue yet hook-heavy song-craftmanship which often doesn't follow usual dance music conventions. Their debut single Stillstand, which was released in 2021 was well received internationally and climbed Austrian as well as German dance charts right away. While pushing their boundaries a bit further with their follow up EP Dschungel which was released in 2022 and got remixed by artists like T.Raumschmiere, Tech Support or Birds, they continuously keep remixing and collaborating with acts such as Local Suicide, Oberst & Buchner, Kalipo, Dina Summer, Ali X or You Man. In the last two years they further established their name by DJing and playing their first ever live shows in cities such as Berlin, Paris or Thessaloniki. Wiener Planquadrat will continue their journey by releasing more music soon while strongly focusing on the production of their debut album.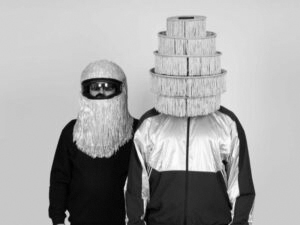 Boys' Shorts
Boys' Shorts is a Greek DJ & production duo which was founded by Vangelis (ex-LAGASTA) and electronic artist Tareq. Their sound is a blend of everything they love to mix in their DJ sets, from disco to breaks and slow techno to acid. To quote the boys "…we make people dance!" So far, they've released on labels such as HE.SHE.THEY, Cormac's Polari records, Permanent Vacation, Iptamenos Discos, Love Child & Future Disco. They have also delivered remixes for artists like Yuksek w/ Polo & Pan, Kasper Bjorke, Boy George, Local Suicide w/ Lena Platonos, Daddy Squad w/ Zoot Woman, Casey Spooner (Fischerspooner), Mala Ika, and Kito Jempere ft. Wolfram to name a few. Their remix for Casey Spooner was included in the Red Hot + Free compilation, and the video that accompanied the remix premiered at Leslie-Lohman Museum of Art in New York. Their track "New Era" reached No1 on Beatport and Juno Download and was hot listed on Germany's Radio Eins, while their track "Fantastic" received support from BBC Radio 1.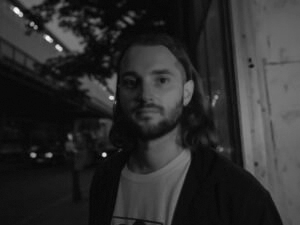 Radondo
Hailing from the UK and now residing in Berlin Radondo has built a versatile sound within the Italian Dance Wave movement. His progressive DJ sets have seen him quickly become a prevalent artist in the Berlin scene, playing venues such as Renate, Sisyphos, Hor Radio and Zur Klappe. Since 2019 he has steadily released on labels such as Wrong Era, Loose Fit Records, Ritmo Fatale and Fucanglong Files. Tying together his Italo Disco, EBM, and New Beat influences, Radondo creates a captivating atmosphere filled with tangible nostalgia through forward-thinking production and energetic selections.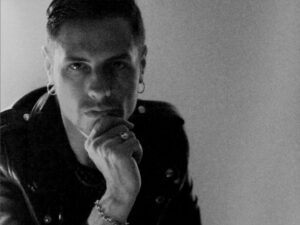 Skelesys
The Argentina-born, Berlin-based producer, DJ and live act has emerged as one of the most exciting projects across post-punk, wave and future sounds. Inspired by everything from hard rock, sci-fi and horror, his music traverses several genres resulting in a fresh, unique sound that is all his own. After releasing great material on labels like Eskimo Recordings, Ombra INTL and Snap Crackle & Pop, his latest EP, Epsilon (Oraculo Records), quickly sold out on vinyl.
Primarily a live artist, he incorporates guitar with electronics and vocals on stage, while also being an electrifying DJ, delivering sets featuring all things under the umbrella of 80s influenced dark sounds. Since arriving in Berlin, he's played at some of the best parties and clubs around Europe including Ombra Festival (Barcelona), Kablys (Vilnius), Tempio del Futuro Perduto (Milan), iboat (Bordeaux) and becoming a regular performer at Brvtalist live events in Berlin as well as joining Curses (live) as a bass player on occasion.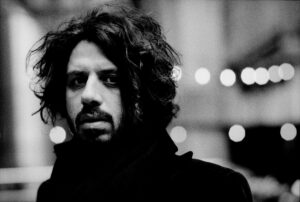 Joshua Murphy
Born and raised in outback Australia, multi-instrumentalist and songwriter Joshua Murphy, to a degree, followed the path of Nick Cave – eventually moving to Berlin and becoming involved into the local scene as a member of various bands, promoter and a club-owner. Though, despite the dark ceremonial emotionality that has always been associated with Berlin. His debut EP "Lowlands" which was released on aufnahme + wiedergabe takes its main inspirations from Joshua's motherland and unites dark ceremonial tales, a narrative of somber procession, atmospheric composition and evocative storytelling.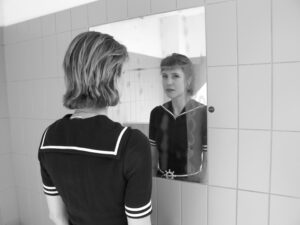 Alexandra Feusi
Alexandra Feusi is a Swiss-Polish artist from Zurich, Switzerland. She studies abstract painting at the Academy of Fine Arts in Vienna, Austria. Musically, she moves somewhere between dance techno, disco, electronica and indie dance with a pronounced penchant for electronic psychedelic sound and French electronic music as well as a penchant for the weird.
For her, making music is a perfect balance to the rather introverted work in the studio, where no social interaction takes place. Her role as DJ forms a counterpoint, it is an extroverted game between her and the dancers. In the middle of the action and yet in a safe space, loud, wild, and palpable as part of life and a community.
Detached from the two-dimensionality of painting, it is musically possible to create an abstract space, to play and experiment in it, as she points out.
Music and her studio work inspire each other and unfold a new energy and source of inspiration. Both are equally important to her and can also no longer be separated from each other, both have the same origin, both are art.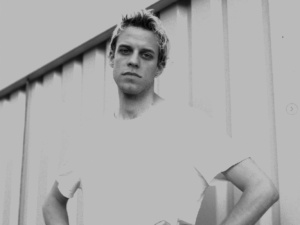 Nicolas Fehr
Situated at the nexus of music, performance, and visual arts, Nicolas Fehr's practice is characterized by an interweaving of pop-culture, folklore, and personal biography. Fehr grew up in Connecticut, USA, and moved to Germany at the age of ten. He studied media arts and scenography at the University of Arts And Design Karlsruhe and fine arts at the University of the Arts Bremen. He lives and works in Berlin.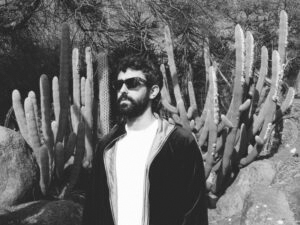 Yotam Russo
Tel Aviv-based artist Yotam Russo (formerly known as Lott) signs to Local Suicide's label Iptamenos Discos and announces his new 'Twilight Zone Disko' EP. The 3-tracker is the Israelis most mature release to date and perfectly showcases his unique approach to modern electronic dance music. Being known for his fusion of heavy drum machines with psychedelic guitars, acid melody-hooks and catchy vocals he creates a rich spectrum of sound that takes listeners on a journey through a range of emotions and genres. Over time, he has cultivated a distinct style characterized by by an optimistic and upbeat vibe that is both nostalgic and contemporary. In this EP he expands his creative expression by adding meaningful text that resonates with his audience, making his music a powerful vehicle for storytelling. Whether this be via performing live or in the studio, Russo innovatively blends genres from Indie Dance, Synthpop, Dark Disco to House & Acid often referring to bands like LCD Soundsystem, Soulwax or The Faint.