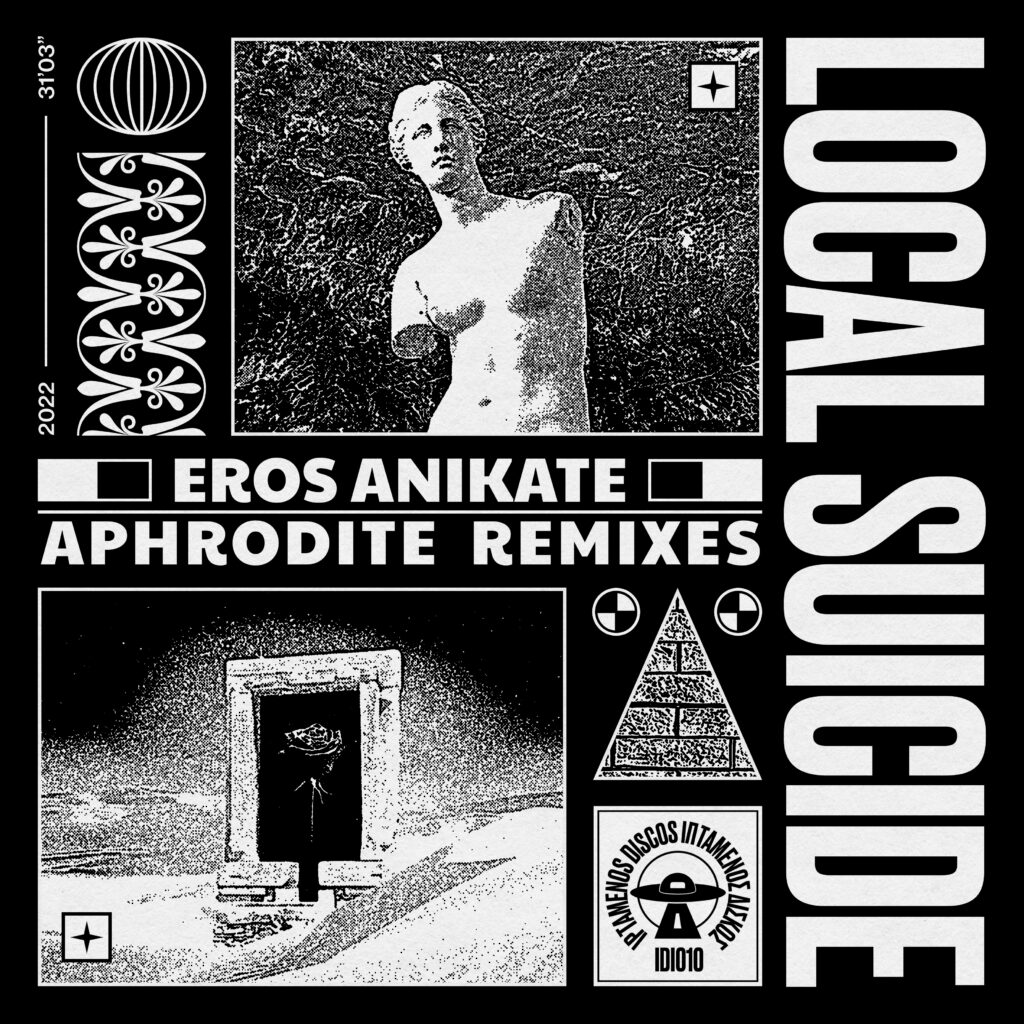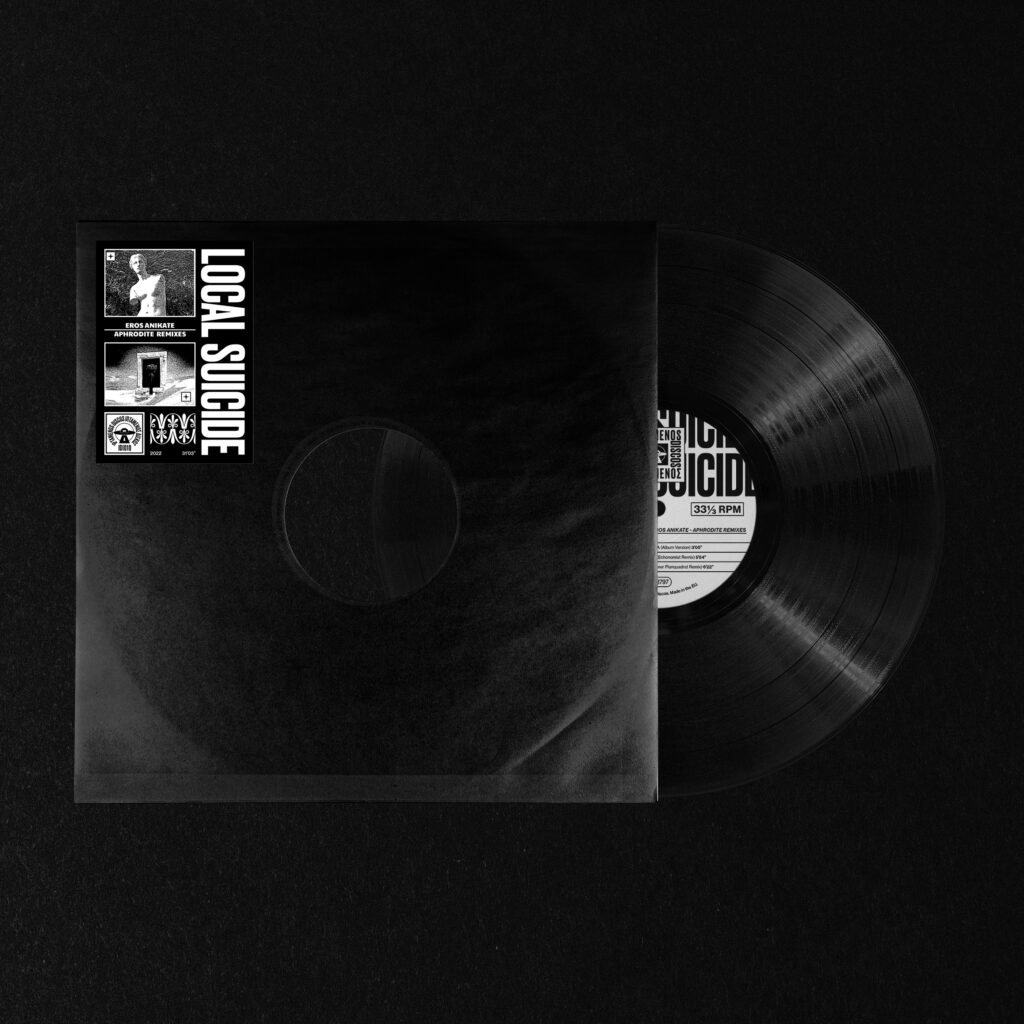 Artist: Local Suicide
Title: Eros Anikate – Aphrodite Remixes
Release: December 9th, 2022
Format: 12″ / Digital
Press Release:
Local Suicide release the last of four remix EPs for their debut album, 'Eros Anikate', named after the ancient Greek god Aphrodite.
The Greco-German DJ and Producer couple are known for their wild fusion of new wave, acid, slow techno, EBM, and dark disco and have been driving live audiences into a frenzy across the globe with captivating performances and live sets. Their propulsive grooves have earned them the title of key figures in the up-rising dark disco scene, as well as overwhelming support from the music press worldwide for their releases to date. Their debut 'Eros Anikate' comes after 13 EP releases and is the next step on their journey to a worldwide cobra wave and techno-disco takeover. The album includes selected vocal features and collaborations from Lena Platonos, Curses, Theus Mago, Kalipo, Sissi Rada and more, and received immense support from the likes of Mixmag, Spiegel, Tsugi, Faze, Inverted Audio, Sonic Seducer, Starwax, Side Line, Ransom Note, Groove, The Sun, Kaput Mag, Electronic Groove, Deutschlandradio Kultur, Lifo, Spotify and Apple Music.
'Eros Anikate – Aphrodite Remixes' is a 6-track EP featuring the album version and two new remixes of 'Agapi feat. Sissi Rada' and the same for 'Homme Fatal feat. The Hidden Cameras'. Both album versions were previously released on the digital 'Eros Anikate', but this will be the first time released on vinyl. For 'Agapi', the duo teamed up with their close friend, Sissi Rada, a classical-trained harpist and singer from Athens who plays with Greek orchestras worldwide. She has worked with other legends such as Lena Platonos, Brian Eno, and Andi Toma and recently released her album 'Nanodiamond' which features the latter. A harpist at her core, the influence of her angelic instrument shines through her sound and style, which is evident in 'Agapi'. The stripped-back, minimal track soothes the soul and contrasts the energy from the rest of the album. Her enchanting vocals urge listeners to let go of fear and trust and surrender to the most powerful force humans can feel; love. On 'Homme Fatal', Local Suicide joined forces with one of Canada's most mercurial legend, Joel Gibb, aka The Hidden Cameras. Known for his raucous and provocative performances celebrating freedom and sexuality, Joel lends his sassy and classy voice to the EBM anthem. It aims to capture the surreal atmosphere of queer parties in Berlin, where the music is stomping and people are free. The track's rusty synths, heavy kicks and staggering snares create a liberating march meant for the club stage. The EP will be released on digital and 12″ vinyl via their Iptamenos Discos imprint on December 9th, 2022.
The first remix for 'Agapi' comes from the Greek mastermind, Echonomist. His prolific output, ability to experiment with various styles and liberated approach are essential components of his artistic nature. With years of experience already under his belt, Echonomist has recently gone through a leap in his development, with releases on Innervisions, Afterlife, TAU, and Kompakt, among others, demonstrating his impeccable musical ability and production prowess. His remix starts by retaining the stripped-back sound of the original before layering up into a dark and pressing rhythm with cascading notes, while the vocals faintly bleed through like an enigmatic message.
The second remix of 'Agapi' is by Wiener Planquadrat, who return to Iptamenos Discos, having already released 2 successful EPs on the label and several collaborations and remixes with Local Suicide. Wiener Planquadrat is formed by Maximilian Atteneder from Catastrophe & Cure and Michael Weiler, a former member of Luv Shack's Burning Tears. Their work is a union of their two musical backgrounds, mixing indie, dark disco, and a decent portion of French electro, reminiscent of the first times they met. Their remix completely reimagines the track, bringing in plucked synths, a classic 80s style beat, delayed percussion and distorted, screechy stabs that contrast heavily with Sissi Rada's angelic vocals. The soft synth pads break the energy to remind us of the soothing ambience of the original track before plunging right back into the chaotic energy of the club-ready remix.
Franz Scala offers the first remix of 'Homme Fatal'. He is a long-time friend of Vamparela, with whom they used to organise parties together in Thessaloniki before moving to Berlin. Franz is now the label head of Slow Motion and New Era and is known for running the infamous Italorama parties in Panorama Bar. His diverse sets weave smoothly between Italian Dance, Psychedelic Disco and Proto House, quickly turning the dance floor into a vignette-tainted retro nostalgia rave. Aside from producing on his own imprint, he has releases on World Unknown, Bordello A Parigi, Bahnsteig 23, Tusk Wax, Mechatronica and Discodromo's Cocktail d'Amore Music and frequently inspires dancers in clubs and events all over Europe. While preserving the catchy, stuttering bassline and 80s break drums, Franz's remix softens the track for a more melodic rework with lush synths and gentle, reverb-heavy vocals.
The final remix of the EP comes from the Berlin-based producer and DJ duo from Milan, Modular Project. They strip back 'Homme Fatal' to its core essentials, blending a distorted lead guitar, echoing vocal cuts, and glitched watery fx with the lead bassline theme for a straightforward and effective dancefloor groove. The eclectic duo was formed in 2014 by the Italian DJs Alberto Iovine and Alessandro Fumagalli, with a sound defined by powerful drums and driving synths, heavily influenced by New Wave and Italo Disco from the 80s. They first rose to prominence with a remix of the Blond:ish classic 'Wizard of Love' on Rebirth Records, which became one of the label's most requested tracks of the last decade. They followed up their success by founding their own imprint, 'Nothing is Real' and their current 'Robot Studio' in Monza, Italy. Since, they have released on Permanent Vacation, Motordiscs, Duro, Relish and Freeride Millenium, and more, with notable tracks being a remix of Robi Insinna/Headman's iconic 'Be Loved' and the dancefloor beast 'Supernova' that reached number 1 on the Beatport Indie Dance chart and Electronic Disco.
ALBUM PRESS HIGHLIGHTS:
"'Eros Anikate', is dubbed to showcase the pair's 'techno-disco' sound, which blends retro with modern musical elements, baselines and mysterious vocals. It'll include an array of collaborators and friends to add the final touch." MIXMAG
"It is with complex productions, at the crossroads of new wave and post-punk, sprinkled with touches of EBM, that the Greek-German duo imposes itself in the musical landscape of Berlin techno." TSUGI
"Many hits on an all-around convincing debut album" SONIC SEDUCER
"On the LP, we get to hear atmospheric basslines and haunting vocals that fuse beautifully with new wave synth electro sound to create an exciting blend of retro and modern." FAZE
Downloads:
Local Suicide Links:
Other Releases: