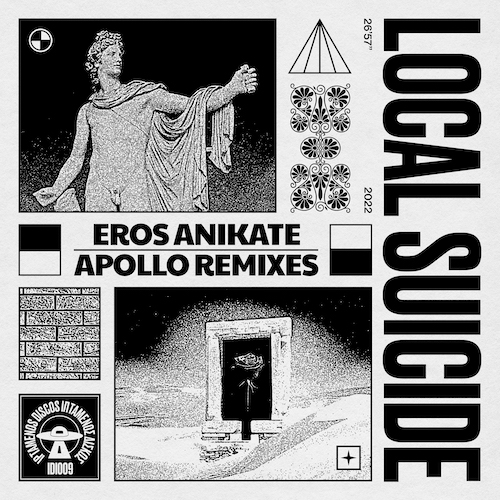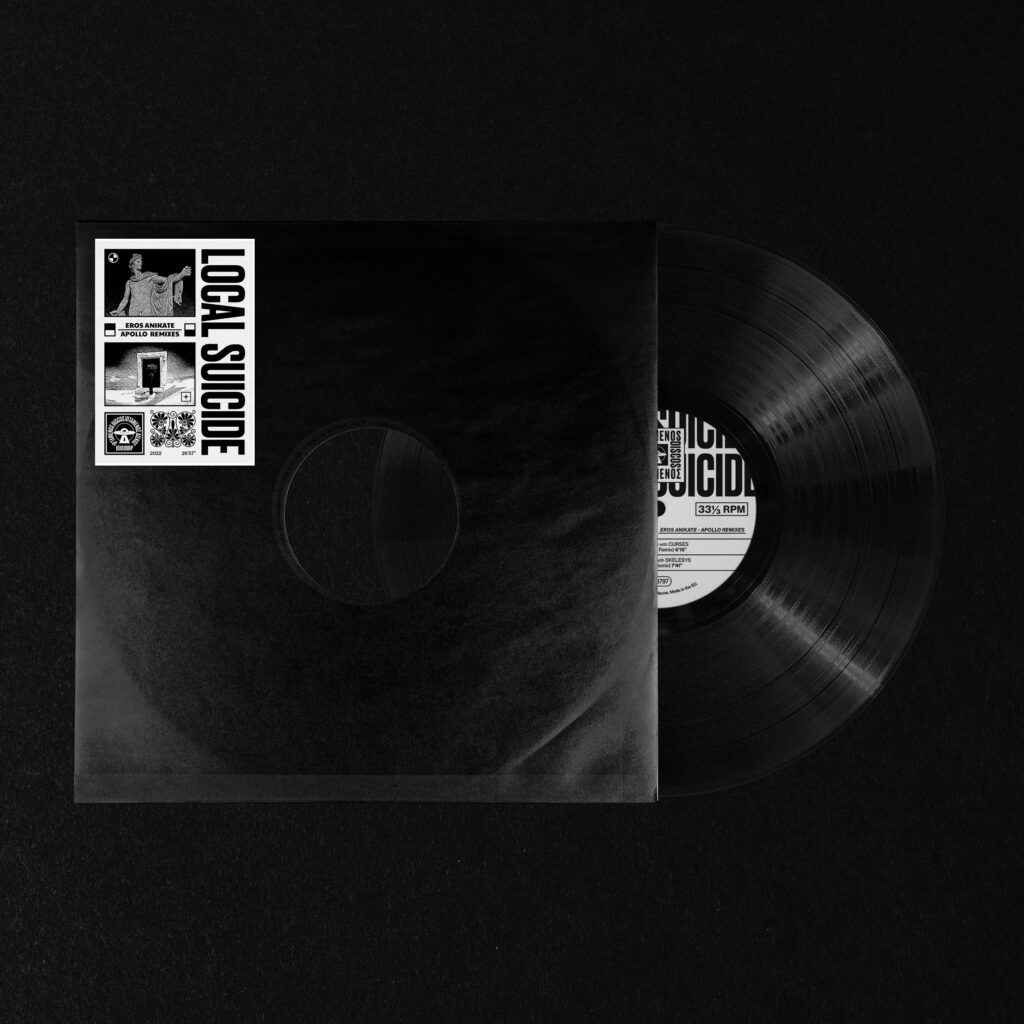 Artist: Local Suicide
Title: Eros Anikate – Apollo Remixes
Release: November 18th, 2022
Format: 12″ / Digital
Press Release:
Local Suicide return with the third of four remix EPs for their debut album, 'Eros Anikate', this time named after the ancient Greek god Apollo.
The Greco-German DJ and Producer couple are known for their wild fusion of new wave, acid, slow techno, EBM, and dark disco and have been driving live audiences into a frenzy across the globe with captivating performances and live sets. Their propulsive grooves have earned them the title of key figures in the up-rising dark disco scene, as well as overwhelming support from the music press worldwide for their releases to date. Their debut 'Eros Anikate' comes after 13 EP releases and is the next step on their journey to a worldwide cobra wave and techno-disco takeover. The album includes selected vocal features and collaborations from Lena Platonos, Curses, Theus Mago, Kalipo, Sissi Rada and more, and received immense support from the likes of Mixmag, Spiegel, Tsugi, Faze, Inverted Audio, Sonic Seducer, Starwax, Side Line, Ransom Note, Groove, The Sun, Kaput Mag, Electronic Groove, Deutschlandradio Kultur, Lifo, Spotify and Apple Music.
'Eros Anikate – Apollo Remixes' is a 4-track EP featuring a remix for 'Whispering w/ Curses', 'Moustache w/ Skelesys', 'Like Follow Subscribe feat. Hard Ton', and 'PHD In Apology'. The EP will be released digitally and as a limited and numbered clear 12" vinyl via their Iptamenos Discos imprint on November 18th, 2022.
The EP opens with a remix of 'Whispering' by the legendary, Berlin-based duo, Adana Twins. Since their first big break in 2012, the duo have established a sterling reputation, constantly refining their sound, pushing the boundaries of their musical ambition and evolving organically over time. They are driven by a deep-seated desire to transmit emotion through electronic music, merging Benjamin's love of hip-hop and Friso's passion for club music to produce a series of highly-regarded releases that form the foundation of their global success. As they've grown, the duo have channelled their love for electronic music into their platform, TAU, providing a creative space to expand their sound while also discovering and nurturing new artists, including Local Suicide, who previously released on the label a few years ago. Their remix of 'Whispering' strips back the synths and guitars, placing the bass at the forefront to drive the track while Curses' dark, 80s-inspired vocals dance among Dina's echoing whispers. Local Suicide collaborated with New York born and raised artist Curses to reminisce on the wilder and sexier times of the 'Spaghetti style' wild west films they watched in their youth, literally putting the 'wild' into the 'wild west'. 
The remix of 'Moustache' comes from Andre VII, a close friend of the duo from Mexico City who they met while touring there. For the original track, Local Suicide teamed up with Skelesys, a Berlin-based, cutting-edge artist with a strong musical background in hard rock, post-punk, synth-pop, science fiction and horror movies.
He is known for his haunting, stripped-down futuristic vibe. Andre VII's fantastic rework builds over a looped vocal phrase and rising effect drones before breaking with a funky, vibrant synth lead. Andre VII is an active member of the Mexican electronic music scene as a DJ and producer, founder of his electronic label, Platino Records, label manager of Sicario Music, and partner and booker for nightclubs such as Bar Oriente and Xaman in Mexico City. The music released under his Andre VII moniker aims to motivate from a fresh perspective and challenge the listener to evoke a good party atmosphere. 
Passific Assalt Sissem (PAS) is the new and mysterious artist project from a Canadian-born producer legend living and cooking up raw, channelling techno from their lab in Oaxaca, West Coast, Mexico. PAS presents an energetic remix for 'Like Follow Subscribe' with pulsing synth chords and a rising vocal effect that pull you in while punchy drums and groovy percussion keep the rhythm going. The rework cuts down on the 80s-style vocals from the Italian queer disco duo, Hard Ton, opting to loop the digitalised lead vocal, "like, follow, subscribe". The sarcastic and cynical vocals allude to the sinister and insidious nature of social media which dictates many aspects of our lives, and enslaves us.
The final remix comes from Alejandro Molinari for 'PHD In Apology', which is much darker and muted than the original. Drawing inspiration from a range of styles such as post-punk, dark-wave and the origins of techno, Alejandro fuses his soundscapes with unique electro-magnetic frequencies while his interest in occultism and supernatural archaeology underpins his vast musical and cultural foundation. The result is a mesmerising, cosmic experience. His remix of 'PHD In Apology' sheds the lead synth melodies, playing instead with the textures and movement for a dark and dramatic mix.

ALBUM PRESS HIGHLIGHTS:

"The upcoming album, 'Eros Anikate', is dubbed to showcase the pair's 'techno-disco' sound, which blends retro with modern musical elements, baselines and mysterious vocals. It'll include an array of collaborators and friends to add the final touch." MIXMAG
"Eros Anikate' is a true and faithful representation of the sound which has led Local Suicide to be among the most celebrated in their field, representing a fresh fusion of electronic disco that speaks in EBM's quieter tongues – a perfect storm of dark and light. Ready to bring the goth summer vibes to the party."
 INVERTED AUDIO
"It is with complex productions, at the crossroads of new wave and post-punk, sprinkled with touches of EBM, that the Greek-German duo imposes itself in the musical landscape of Berlin techno." TSUGI
"Many hits on an all-around convincing debut album" SONIC SEDUCER
"On the LP, we get to hear atmospheric basslines and haunting vocals that fuse beautifully with new wave synth electro sound to create an exciting blend of retro and modern." FAZE
Downloads:
Local Suicide Links:
Other Releases: