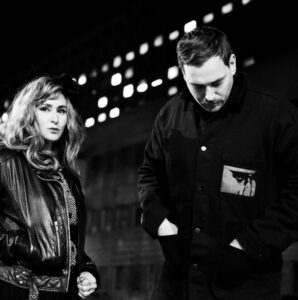 Iptamenos Discos was established in 2021 by Berlin-based duo Local Suicide as an outlet to release their own productions. Besides Local Suicide's critically acclaimed debut album 'Eros Anikate' the label put out EP's and singles by Dina Summer, Wiener Planquadrat, Boys' Shorts, Curses & Yotam Russo with remixes by Adana Twins, Echonomist, Biesmans, T.Raumschmiere, Black Light Smoke, You Man & many more.
The duo has gained a reputation for their eclectic works across many genres such as dark disco, new wave, indie dance, leftfield pop, EBM & industrial. They collaborated with artists such as Curses, Theus Mago, Rodion, Alejandro Paz, Kalipo, Mijo, Thomass Jackson, Kid Simius, Joyce Muniz, Skelesys & many more.
The decision to launch their own label came because of an array of reasons. They wanted to create a home for artists no matter how "big they are", not looking at numbers and social media followers and to only focus on releasing music that speaks to them, that they could listen to on repeat for days on end. The personal aspect was also really important, they only wanted to work with nice people and to be as inclusive and international as possible, welcoming female and LGBTQ+ artists. And they wanted to have an outlet for their own music, doing no compromises and without long waits for the music to be released.
The name of the label came out of their love for space & sci fi  and ended up with the idea of a wordplay as Iptamenos Discos can mean flying saucer or flying record (vinyl) in Greek.
In 2022 the duo established their monthly 'Iptamenos Diskotek' Berlin club nights at Renate, outdoor events & concerts at Urban Spree and hosted label events in Paris, Thessaloniki and Vienna. In 2023 the duo also founded their own publishing company 'Iptamenos Notes' which is administered by La Chunga to help artists claim royalties for live appearances, DSP's, airplay & collecting societies and get chances on additional income via TV/movie syncs, advertisements and other productions.